Healthcare providers
Empowering the healthcare provider
TakeCare enables the healthcare provider to give the best treatment possible. With easy and secure access to data with the latest steps in diagnosis, medication and treatment of the patient, the knowledge about the patient is always up to date. TakeCare provides fast access to tests, x-rays and lab results. The data is provided in an easy manner and can be shown in different contexts.
Because all data is available the TakeCare installation in Stockholm's county council, Sweden has proven to be a facilitator of new and more effective workflows. The shared patient record has strengthen the efficiency and quality in the healthcare system.
Informed decision making
TakeCare is a comprehensive integrated system for A&E, in-patient and out-patient handling, sectioned patients, highly specialized treatments, as well as standard healthcare requirements. The service guarantees patients, as well as the healthcare providers, full security in terms of accessibility and integrity. When the system reflects a new incident concerning a patient, everyone in the healthcare sector is "in the loop" and will always have a complete overview of the patients way through the healthcare sector. This allocates time to act instead of having to gather information from many different systems.
The overview of e.g. prescribed medication shows past and present medication prescription and the dosage. The system also emits an alarm for instance if a patient is hypersensitive to a specific medicine or is already being medicated with a similar product. This helps to prevent malpractice and medication errors.
TakeCare helps:
Assist in decision making regarding diagnosis, care and treatment.
Everybody to stay "in the loop".
To prevent errors caused by lack of data.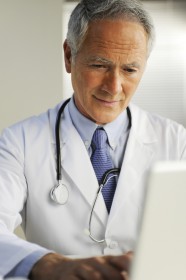 TakeCare gives the healthcare provider the following capabilities:
Easy access to structured data.
A fast system with a less than a second response time.
Easy to contact the patient.
Easy to contact colleagues.
An overview of x-rays, lab results, medicine etc.
An awarded user friendly system.